Commission A Unique Piece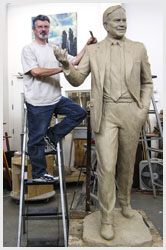 Kraig receives his inspiration for his work from the people whose lives have intersected his. Each individual comes with their own set of views and perceptions of the world around them and these views and perceptions not only shape the world as they see it, but it shapes how we see them.
Kraig's ability to tell each person's story and the emotions and feelings associated with this story make his work so compelling and sought after for commission projects. One of his goals is to capture life's aspirations in the others he sees and to record this moment in time through sculpture.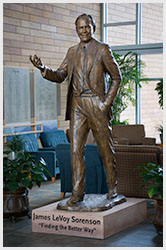 There is no obligation of any kind to request information about working together on a commission project. After talking on the phone or in person, to get an understanding of the project – Kraig will draft a proposal, and provide 3 dimensional clay models, with estimated pricing for your review.
Once a patron is pleased with a sketch we are able to work out a firm bid for the full scale clay creation and the bronze casting. With the price agreed upon the project begins. My terms are 1/3 payment to begin the project. The next 1/3 is due at the completion of the full scale clay, and the final 1/3 due upon delivery of the finished bronze sculpture. Timing varies, but generally takes about 60 days to design and sculpt the piece and another 60 days to cast the project in bronze.
The process is low key and fun; give us a call to discuss your ideas. Let's work together and create something beautiful!
Kraig is a man with deep and lasting commitments to the principles that have guided and shaped his life. His beliefs about himself and his place and purpose show in his character. His passion for expressing himself through his art has always had a core place in this inward motivation. His passion for life, his ability to have fun, and his willingness to share all the gifts that he has, are a blessing to those who know and associate with him.