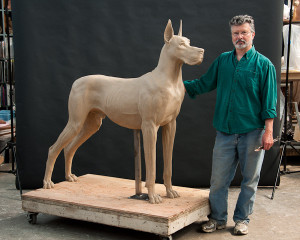 Great Dane Trailers of Utah recently asked several artists to bid for a sculpture to display in their Salt Lake City showroom, reflecting the image from the company's logo.Of all the artists that submitted sketches and models in order to bid for the project, Kraig Varner was ultimately the artist that piqued their interest the most.Kraig created a maquette of a Great Dane in clay and was then asked by the dealership to create the piece in a life-size bronze sculpture.
For the next two months, Kraig worked diligently on sculpting this substantial work of art, in clay.He had sculpted dogs before but had yet to have the opportunity to sculpt such a magnificent animal.He spent time researching the proportions of the Great Dane and what people perceive as beautiful qualities in this specific breed.Kraig felt that the presence of the Great Dane was one of the most important qualities to capture as the breed comes across as strong, powerful, and athletic and yet incredibly gentle at the same time.
The life-size piece is currently in the process of being molded and casted in bronze at Adonis Bronze Foundry.The finished sculpture is set to be installed at Great Dane Trailers of Utah, in Salt Lake City, in a few weeks.
Kraig has recently revisited an old piece, "Kneeling Woman", which has evolved into a new sculpture named "Interlude". "Interlude" is a very contemplative piece. It displays a quiet, thoughtful moment overshadowed with a hint of melancholy. Kraig has said that he began this piece during a crossroad in his life, and during that time his contemplations spilled over into his work. Another inspiration for this sculpture came from the model. Kraig worked exclusively from a model for "Interlude" and from her quiet, thoughtful personality the contemplative expression and air of melancholy was born.
Kraig wanted to experiment with a kneeling pose by putting it into a contrapposto position. This gave the sculpture elegant lines that celebrate the female figure. Kraig brought beautiful expression into the body, allowing every line to participate in the story of a captured moment. "Interlude" stands at 27" tall, and is a beautiful representation of quiet gravity.
Today, Kraig is down in Sausalito California for the renowned Sausalito Art Festival. This is Kraig's second year attending the Art Festival and we know he was really looking forward to meeting new people, showing his art as well as attending the wonderful and well catered Gala Preview Party. We are excited to be back in Sausalito for their Art Festival and hope to meet many new people and see some old friends. We are sure that Kraig will be a success with his phenomenal artwork and interesting personality, we know he will attract the attention of the experienced collector as well as the amateur art lover.
Some information about the Sausalito Art Festival which we found interesting is posted here. We found this information at www.sausalitoartfestival.org.
"The Sausalito Art Festival is one of the first juried fine art festivals in the nation. In the 1970's, a cash awards purse was instituted. Today, the jury includes museum curators, professional collectors, gallery owners, and art professors.
The Festival is acknowledged as "The Granddaddy" of Outdoor Fine Art Festivals. Under the Chamber's stewardship, the Festival has seen its greatest growth, gained national recognition as the #1 Outdoor Fine Art Festival in America, and has earned an international standing for excellence in the arts. It is now considered one of the "best" and "most prestigious" fine art festivals in the United States by both Artists and Collectors worldwide.
The Festival is a nonprofit fund raising Event that has benefited every civic and nonprofit organization in Sausalito with over 1,000 volunteers and over 270 of the nation's top juried Artists. It is produced by a dedicated group of artists and community volunteers.
Today, the Festival draws over 34,000 art enthusiasts, museum curators and private collectors from throughout the world. The Sausalito Art Festival Arts Education Scholarship Fund was established in 1995 to provide educational opportunities in the arts.
The Sausalito Art Festival has always been known as a showcase of local, established, and emerging talent, as well as the place to meet old friends and make new ones. 2010 marks our 58th Anniversary."
Kraig and the crew are headed down to Loveland, CO next week for the Loveland Sculpture Invitational Show. We are excited to bring some new pieces and introduce those unfamiliar with Kraig's work to his point of view. We believe that Kraig's work will stand out because of his unique sense of beauty, his use of simple, clean, elegant lines and his sense of a good story that wraps itself around each of Kraig's pieces.
If you are headed down to Loveland for this renowned art show, stop by and take a look at Kraig's work. We hope to see you there!
Kraig was commissioned earlier this year to do a sculpture of Saint Mark for Saint Mark's Cathedral in Salt Lake City. He has just completed this piece and we were excited to share it with everyone. Kraig's attention to detail is impeccable, if we do say so ourselves, and he has been able to capture Saint Mark's renowned intelligence and compassion in this beautiful piece.
Saint Mark is an original commission that will be completed later this year in a life size version.
Kraig's work is now being shown in Santa Fe! This is the first time Kraig has shown his work in New Mexico, and we are excited to be able share his pieces with the fine people in Santa Fe. Kraig has his work displayed in the the Santa Fe Fine Art gallery. His beautiful sculpture "Sun Goddess" greets you as you walk in the door. A fitting greeting for a gallery in sunny New Mexico, if we do say so ourselves. We hope everyone will enjoy Kraig's work out there in New Mexico, and look forward to sharing more of Kraig's beautiful creations with as many people as possible.
This sculpture of Orrin Porter Rockwell has been one of Kraig's most popular pieces. We were able to take this photo a couple of weeks ago and were excited to share it.
Kraig just completed an update to one of his earlier pieces. This beautiful pieces is entitled "kneeling Woman". It will be completed in bronze in the next month.
Kraig recently participated in a show at the LDS Church Museum of Art. It featured a handful of prominent LDS artists at work in the Museum. Kraig was honored as one of the invited artists to participate. The event was well organized and well attended. Kraig was also honored by being mentioned in the Church news. The Story can be found here.
This is Kraig's latest piece "Fire Goddess" completed only yesterday at the Foundry. This is yet another beautiful piece in his Goddess series.